March Update: Alpha to Beta
We've been playing with an alpha build of Kanjilicious from our development partners at Super Toy Box and thinking a great deal about what makes an app compelling—and a game fun to play everyday. Imagining how a game will play from a 2D wireframe is not easy. That's why prototypes are such powerful tools, and why the last couple weeks have been very productive for us.
The concept of scoring a player's answers and placing those scores onto a leaderboard is still a fine idea—Gaming Your Japanese—but a leaderboard alone is not enough to sustain a player's interest over time. If a game doesn't change or evolve as you play it, it can get to be overly repetitive. Building out an interactive prototype has been extremely helpful in revealing some of the original concept's shortcomings.
We've been worrying a lot about creating something that people would return to every day to practice Japanese like they should. If you're going to do something often, it needs to have variety, and our alpha version didn't have enough variety to sustain interest over a long period of time. It was definitely missing something—something beyond practicing the readings correctly. It needed something that had an emotional depth to it. Something that kept a player's attention over more than a few days.
In the end, we all agreed we should add a more prominent storyline to the game. Something more humanistic, more relatable, a narrative that could unwind over weeks, even if the gameplay was kept pretty simple day-to-day.
Over the last couple of weeks we've been brainstorming a storyline that is both uniquely Japanese and competitive in nature. We think someday Kanjilicious could feature a few different storylines, but to get things started, we thought that the sumo format, with an original sumo wrestler character, would be an interesting first storyline to develop and add into the app.
So Kari, our illustrator, has been sketching some ideas on a little sumo guy, who players will meet when they open the app, and mirror as they advance through the game.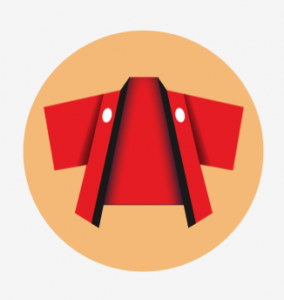 Once we started imagining the game with a character, a lot of other storyline elements started to fall into place. Scores could have additional meaning beyond rankings on a leaderboard. High scores and records could unlock achievements—like badges—that would track a sumo wrestler's promotions through the various wrestling ranks.
In the past few weeks of our alpha we've brainstormed a full storyline that takes the player from the skinny little sumo guy on the left (above), through each grade level—with badges and leaderboards—navigating the player through a narrative that spans a full career. To illustrate the storyline we sketched it out on a scroll that we borrowed from Genji's Ikea easel. It is shown, in part, here: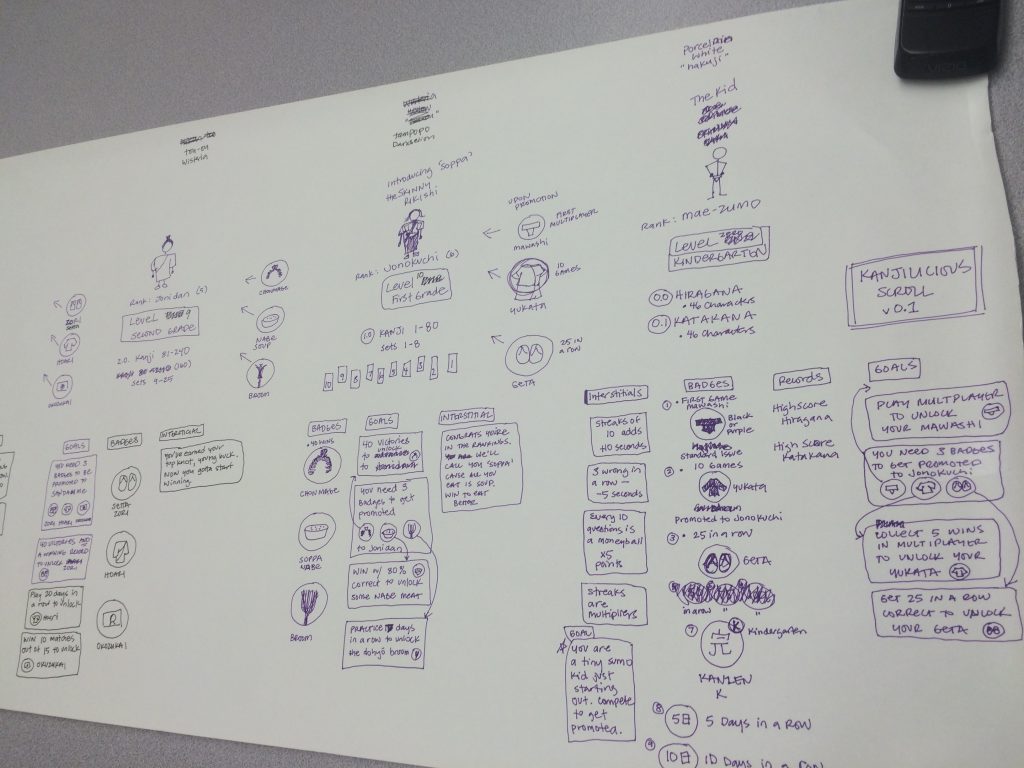 The next step for us is to build out the beta and include the storyline into the game. First, we have to illustrate out all the assets of the storyline, and create a set of badges to include in the next version. We've started on these sketches and full illustrations this week.
Now, I have to admit that we are very far behind schedule. It's completely on me. What we started with was not a fully formed idea. It was a concept, and it has required a lot of thinking to evolve into an experience more worthy of all our generous patience and support.
It's took much more effort and time to get the UI polished and professional looking. It took the alpha build to show the short comings of the gameplay, and reveal a void where a story should be. And it's taken time to think through the tech of the app and kanji databases, something I can discuss at length in a future post.
In the meantime, thank you to everyone for all of your patience and thoughtful contributions. We are still working hard to bring this app to life in the near future. We're definitely making progress—slowly but surely—and hopefully the ideas described above showcase some new features that will add to the anticipation.
Just a little bit longer, please. We truly believe that the new ideas will be well worth the wait.
Please let us know what you think in the comments below. We'd love to hear your thoughts.