Kanji of the Day: 天 (てん/あめ/てん) ten/ame/ama (heaven)
Do you like 天ぷら (Tempura)?
I LOVE 天ぷら(or anything deep fried 😉 )!! If cooked correctly, the crust is light and crunchy, and it actually really complements the flavor of ingredients. My favorites are:
Shrimp
Sweet Potatoes
Kabocha Pumpkins
Eggplant (This is my Favorite!)
Carrots and Gobo (Burdok Root) 
Onions
I especially like 天ぷらそば (Tempura Soba), which is a cold soba noodle dish served with tempura. Mmmmm!!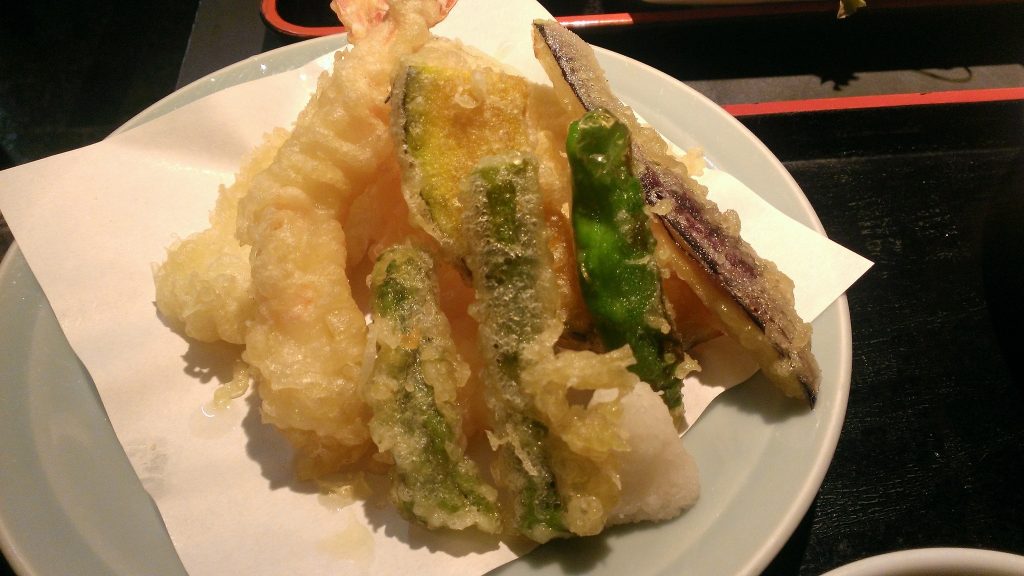 Well, there really is nothing wrong with these ordinary ingredients, but just noticed that I always get or make same kinds of 天ぷら over and over, and it's getting kind of repetitive and boring.
So I did some research, and here are the list of not-so-common but good tempura ingredients that I found that you can try at home 🙂
Cheese – (Dip your favorite kind of cheese (block cheese recommended) in the tempura batter and just deep fry it until nice and crispy. Make sure the Cheese is refrigerated at least for 30 minutes before deep frying! Serve it with crackers or veggies to enjoy this gooey deliciousness!)
Brussel Sprouts
Asparagus
Bell Peppers
Ham and Cheese (Put a small chunk of your favorite cheese on a piece of ham, folded in half, and drop in the frier! You can use some toothpicks to secure the ham if it doesn't say folded.)
Corn and Edamame (Add well-drained corn and edamame (shelled ones) in to the tempura batter, mix well, then gently drop a table spoonful of the mixture in the oil and fry it until golden)
Green Beans
Kale (Deep frying will help reducing Kale's bitterness)
Mushrooms (Portabello, Button, or Shiitake mushrooms)
Soft Boiled Eggs
Sea Weed (Dip a piece of sea weed into the tempura batter and deep fry it. It makes a perfect topping for Japanese noodle dishes like Soba and Udon)
Nori (Sea Weed) wrapped Natto (Japanese fermented Soy Bans)
Avocados (It's a great way to enjoy unripe avocados that you accidentally cut into!)
Celery
Baby Corn
Mochi
Mashed Potatoes (Using hands or spoon, roll a spoon full of mashed potatoes into a ball, and deep fry it for about 4 to 5 minutes. You can add drained canned tuna into the potato if you would like some extra flavor.)
Chicken Tender
Salmon
Pineapples (Cut a fresh pineapple into 1″ thickness, and deep fry it for 2 to 3 minutes on each side. Serve it with Honey, or sweet coconut sauce! You can also used canned ones, but make sure to drain well, and pat dry before deep frying.)
Apples (Cut an apple into wedges and deep fry them for 2 to 3 minutes on each side. Serve it with peanut butter and caramel sauce!)
Oh man, there are so many tempura ideas I haven't even tried! I hope you get to try some of the ingredients on the list. If you have never made tempura at home, it's pretty easy so not to worry! There are plenty of great tempura recipes and tips on the internet, so just try one.
Let us know if you have ever tried unique tempura before!
[prw username="kanjilicious" boardname="天" maxfeeds="40″ divname="myList" printtext="0″ target="newwindow" useenclosures="yes" thumbwidth="100″ thumbheight="200″ showfollow="medium"]